Mfg : Blastroom & Paint Booth System, Shot Blasting Machines, Spares & Service.
About Us
Prakruti Enterprise
We are among the finest in Industry of Shot Blasting & shot Peening Machine, Blast Room System, Paint Booth & Baking Oven Systems Manufacturers in India . The Company has commenced production of Shot Blasting & shot Peening Machines in the year 2012. Our Manufacturing Facilities consisting of one Workshop having 3000 sq.ft. covered area and is devoted for Assembly & testing of Equipments. The Second Workshop is having covered area of 2000 sq.ft. is equipped with Rolling Machine, Welding machine, Automatic Radial/Drilling & Taping Machine, Bending Machine, Plasma Cutting machine, shearing Machine etc.Mr. Ketan Brahmbhatt is Managing Director of this Company is having 15 years of rich experience in this line. The Sales Outlets are located in Mumbai, Indore, Hyderabad , Bangalore, & Delhi. Quality Control Department is equipped with all necessary Latest Instruments.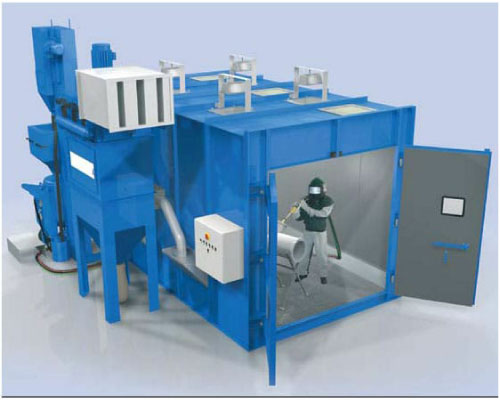 The Company have robust After Sales Services Facility & Net Work. It has trained and experienced Technicians to look after the Service Calls. Huge inventory of Spare Parts is maintained so that these are made available Ready Stock. PE Products are eco-friendly and provide the optimum economic solutions. PE is having highly qualified and experienced machine design team using latest 3D software's for designing of machines. The Company has a policy of continuous improvement on quality of the machine and strives for consumerism. The Company manufactures Standard Shot Peening Machine as well as customized Shot Blasting & Peening Machines.
We are market leader in Mfg Of *Ni-hard,Hi-crome castings* for Airless Shot Blasting Spares(Blade set,Impeller,control cage ,Centering plate,Cage Adaptor plate,Lines,Ni-Hard Tiles, Grill,etc) .We have a range of quality product for shot blasting, etching, deburring,descaling & shot peening applications
"PRAKRUTI ENTERPRISE" has been manufacturing Bare wheel, Dust Bags, Screw conveyor and relating items in-house . Our products are known for their robust construction, high efficiency and reliability of operation.we give our best Quality assurance for our customers satisfaction
In case your esteemed company comes across any requirement for SHOT BLASTING MACHINE SPARES , please feel free to contact us and give us a chance to serve you with our expertise and manufacturing strength.